Programs We Offer
Home Repairs
Habitat's Home Repair program is an extension of our mission to build strength, stability, and self-reliance through shelter. It helps families maintain and stay in their homes and contributes to neighborhood stabilization and revitalization.  This program helps low-income families address repair needs in their homes by focusing on safety, accessibility and meeting municipal codes. By offering home improvements at an 80-95% reduction to homeowners, the program will help preserve and ensure safe, decent, and affordable housing in our community.
As active participants in building a better future for themselves and their families, qualified program partners demonstrate willingness, need, and ability to contribute.
Brush With Kindness (Repair Blitz)
Blue Ridge Habitat is working in tandem with United Way to host its first-ever Repair Blitz during the United Way Day of Caring in September 2020.  The event will take place in a soon-to-be-determined targeted area of Winchester City and will focus on volunteer-friendly exterior cleanup and improvements to homes.  Homeowners within the targeted area will receive informational flyers and applications in late spring of 2020. 
Weatherization
Blue Ridge Habitat partners with Washington Gas to provide weatherization annually in Winchester City to homes in need.  Applications are accepted in the late summer and work takes place the first Saturday in November.  Work includes putting plastic on windows, caulking and weather-stripping doors and windows, applying clear glass patch tape to broke windows, and replacing the two most common sizes of furnace air filters.
Family Selection
Need
Families must demonstrate a financial need to qualify. This is calculated as a percentage of the Area Median Income (AMI). To determine if you are income-qualified (income can be no higher than 60% AMI), compare your regularly occurring gross annual income to the chart below. Your income should include most funds you are receiving, including social security, disability, and/or child support. SNAP (food stamps) and TANF are not counted as income.
Qualified applicants must:
Own and occupy the home located within Clarke, Frederick, or Shenandoah Counties
Need a home repair that they are unable to acquire through their own means
Have total household income less than 60% of the median income for Clarke, Frederick, and Shenandoah Counties of like size
Be current on mortgage payments (if applicable) and property taxes
Demonstrate willingness to partner with Habitat
Demonstrate ability to pay based on sliding scale
Understand many repairs are completed by BRHFH's dedicated volunteers
Understand that this is NOT an emergency repair program; the application process and completion of repairs can take an undefined amount of time.
Willingness to Partner
One of Habitat's founding principles is based on the homeowner demonstrating a willingness to partner, most commonly in the form of "sweat equity."  For our program, we realize that physical sweat equity is not always practical for the demographic we serve for repairs, so instead we ask for other signs of partnership:
Responsiveness to communication from BRHFH or subcontractors
Presence at all BRHFH or subcontractor meetings, assessments, or work at the home
Promotion of a pleasant work environment
Offer of assistance, restroom facilities, or water to those working on the project
Ability to Pay a Portion of the Cost
Habitat works on a "hand-up, not a hand-out" model. Therefore, participants are required to pay a portion of costs associated with the project. This payment is not intended to be a burden to the family, but rather to signify a willingness to partner.  Payment is calculated on a sliding scale based on percentage of area median income.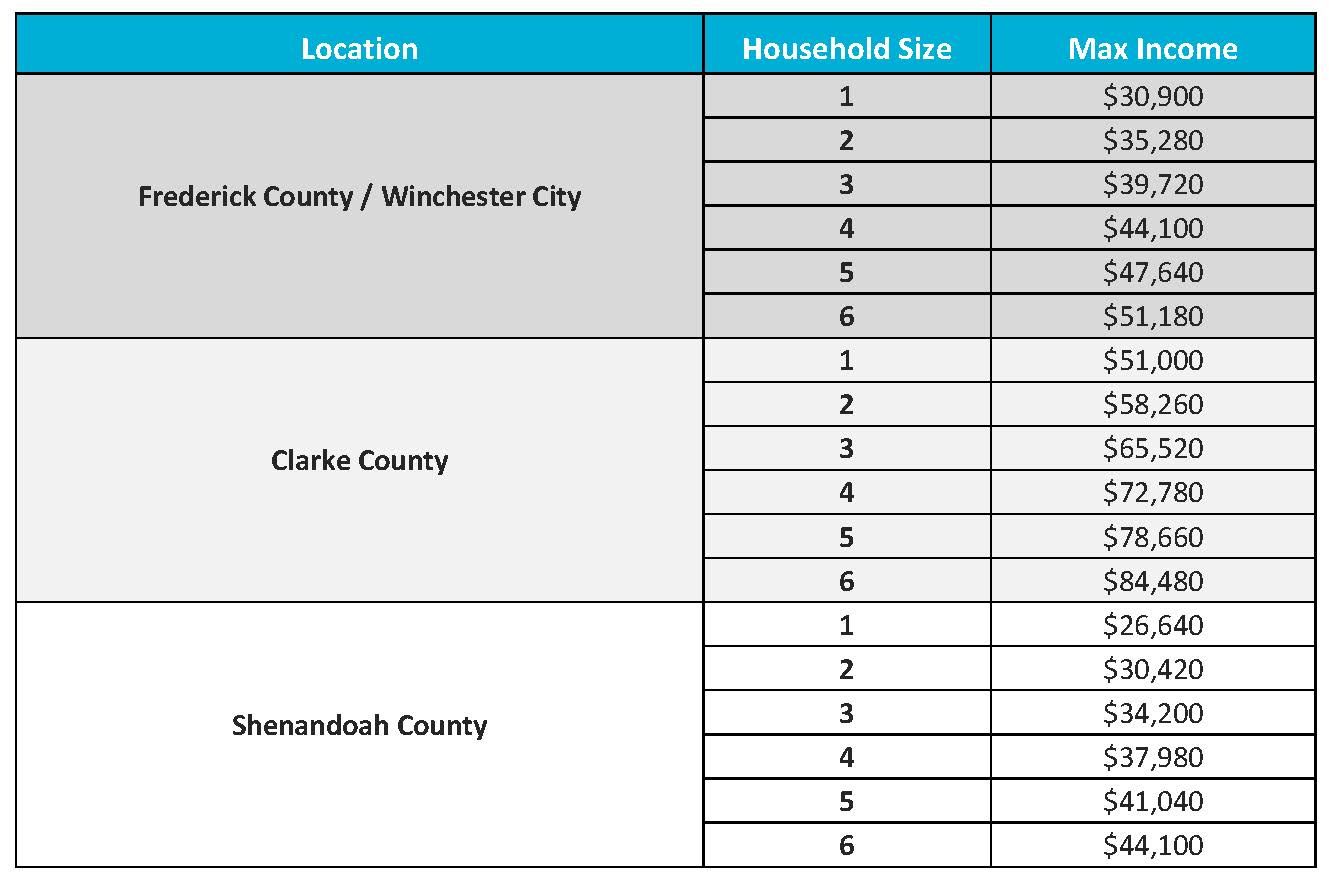 Payment will be determined based on income as follows:
<29% AMI:  5%
30% - 39% AMI: 10%
40% - 49% AMI: 15%
50% - 60% AMI: 20%
The minimum payment for all projects regardless of AMI is $50, which must be paid in full before any work will begin.
Home Repair Process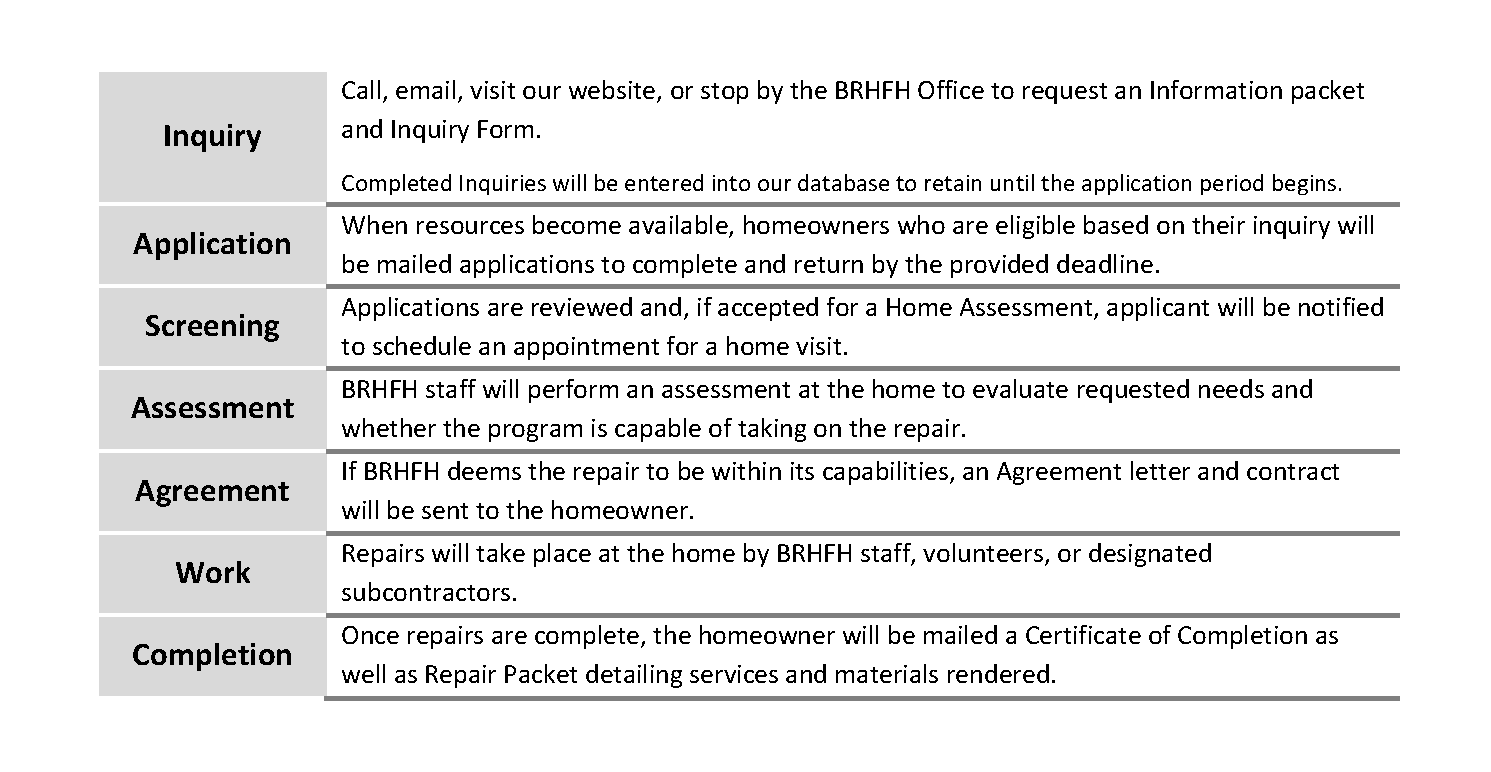 Eligible Repairs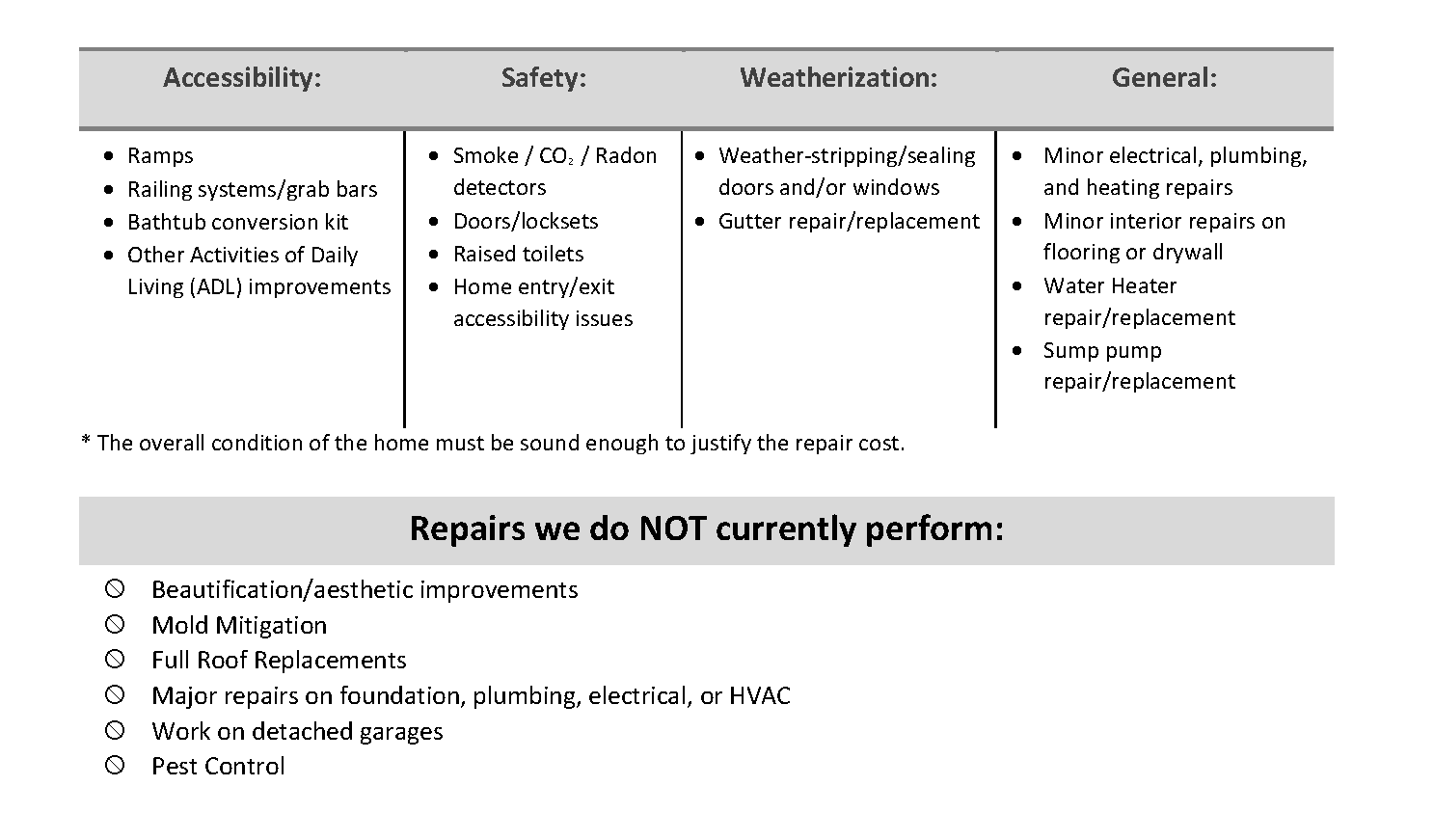 Interested in Volunteering?
Our Repair Program is unique in that no two projects are identical and many are volunteer-friendly.  However, anyone over 16 years of age can volunteer and no experience is required.  If you are interested in lending a hand, please click here to learn more.
We also are appreciative of those with construction experience who want to jump in and be a team leader.  We will need several team leaders for our Repair Blitz in September of 2020.  If you are interested in leading a group, please click here.