Qualifying for a Repair Project
Habitat's Critical Home Repair program is an extension of our mission to build strength, stability, and self-reliance through shelter. It helps families maintain and stay in their homes and contributes to neighborhood stabilization and revitalization.  This program helps low-come families address critical needs in their homes by focusing on safety, accessibility and meeting municipal codes. By offering home improvements for a low cost home owners, the program will help preserve and ensure safe, decent, and affordable housing in our community.
As active participants in building a better future for themselves and their families, qualified program partners demonstrate willingness, need, and ability to contribute.
---
Families Must Demonstrate The Following:
Need
Families must also demonstrate a financial need to qualify. This is calculated as a percentage of the Area Median Income (AMI). To determine if you are income-qualified (income can be no higher than 60% AMI), compare your regularly occurring gross annual income to the chart below. Your income should include most funds you are receiving, including social security, disability, and/or child support. SNAP (food stamps) and TANF are not counted as income.
Qualified applicants must:
Own and occupy the home located within Clarke, Frederick, or Shenandoah Counties
 Need a home repair that they are unable to acquire through their own means
Have total household income less than 80% of the median income for Clarke, Frederick, and Shenandoah Counties of like size
Be current on mortgage payments (if applicable) and property taxes
Demonstrate ability to pay based on sliding scale
Demonstrate willingness to partner with Habitat
Understand many repairs are completed by BRHFH's dedicated volunteers
Understand that this is NOT an emergency repair program; the application process and completion of repairs could take up to one year
Projects that may qualify for our Home Repair Program include but are not limited to:
Roof Repair
Broken Furnace
Handicap Accessibility
Plumbing
Electric
Weatherization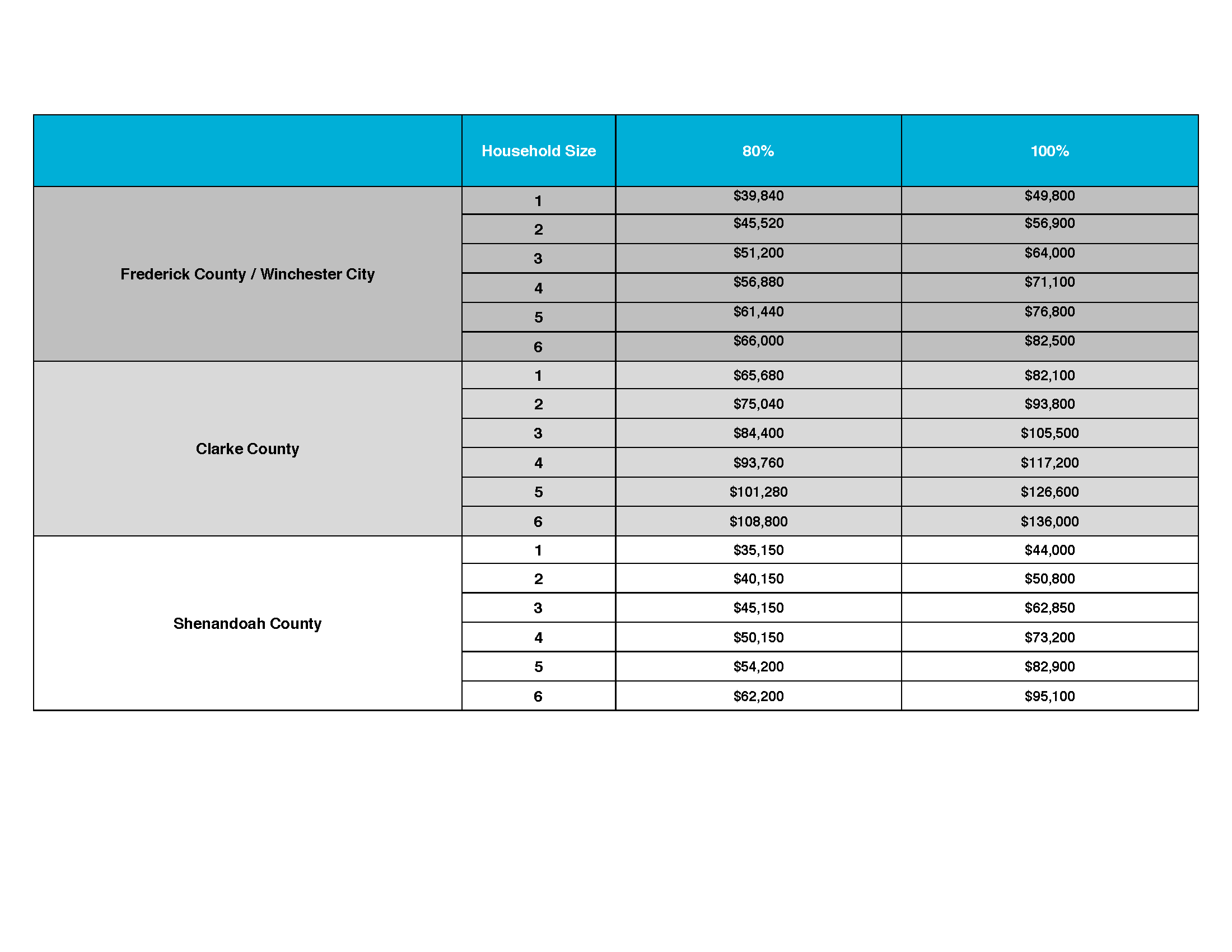 Willingness to Partner With Habitat
Homeowners must provide copies of all required documentation, be honest and cooperative with BRHFH, and complete sweat equity as physically able to do so.  Specific sweat equity activities are decided by BRHFH staff and will be fitting to the homeowner's capabilities.  At a minimum, homeowners must be present during active work, and help when possible.
Ability to Pay a Portion of the Costs
Homeowners must be willing to contribute a small percentage of repair costs.  This payment is not intended to be a burden to the family, but rather to signify a willingness to partner.  Payment is calculated on a sliding scale based on percentage of area median income.
Habitat works on a hand-up not a hand-out model. Therefore, participants are required to pay a portion of costs associated with the project. Payments will be determined based on income as follows:
<29% AMI or under: 5%
30% - 39% AMI: 10%
40% - 49% AMI: 15%
50%  - 60% AMI: 20%
The minimum payment for all projects regardless of AMI is $50. Habitat requires advanced payment for all home repairs. Checks are preferred and should be made to: Blue Ridge Habitat for Humanity .
---
Application
Please download our program description .  At this time, applications are not being accepted. Once the application process opens again, a downloadable link will be added to this page.
For additional questions, email us at  mrunion@blueridgehabitat.org or call our office at 540.662.7066.  
Selection
We hope to address as many projects as possible, as there is great need in this community. However, as resources are limited, projects will be chosen based on a variety of metrics (e.g. need, financial feasibility, etc.).