Our Service Area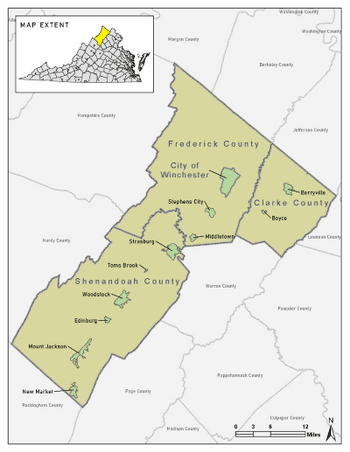 Since 1997, Blue Ridge Habitat has gradually expanded our service area beyond the City of Winchester and Frederick County. Currently, we provide housing solutions to residents of Clarke County, Frederick County and Shenandoah County as well as the City of Winchester.  Our service area makes up over 1106 square miles of the Northern Shenandoah Valley and includes the following incorporated towns:
Berryville
Boyce
Stephens City
Middletown
Strasburg
Toms Brook
Woodstock
Edinburg
Mount Jackson
New Market
The Need
Affordable housing is a key economic driver in our community. To grow our community, we have to have housing and it has to be marketable to the clientele that lives and works in our community. The stronger our housing stock, and the more diverse our housing stock in the community, the better we can respond to any company or any business that is coming in to provide services and jobs. Housing affordability is the foundation of every community sector. As housing availability shrinks and costs rise, families with limited incomes face housing instability and become at risk for falling into a cycle of poverty which has a ripple-effect within the community at large.
Unstable housing can:

Lead to overcrowded and substandard living conditions
Cause health problems such as asthma and depression
Hinder a child's performance in school
Leave little to no money in savings for a family's future
Directly correlate to attracting people who want to live, work and do business in the community
Create neighborhood disparities and a sense of disinvestment
Increase local, state, and federal government expenses through a reliance on social services 
Strain the local healthcare system
Buying a home changes more than just an address...
Habitat opens doors of access and opportunity so that families have a foundation upon which they can build a safer and more secure future.
Studies show that homeownership leads to positive growth across the entire quality of life spectrum.
Education:

Habitat opens doors of access and opportunity so that families have a foundation upon which they can build a safer and more secure future.
Studies show that homeownership leads to positive growth across the entire quality of life spectrum.
Children of homeowners have higher educational attainment.
Young children of homeowners see higher achievement in math and reading and exhibit fewer behavioral problems.
Teen-aged children of homeowners are more likely to stay in school.

Community Life:

Homeowners spend more time and money in maintaining their homes, contributing to the value and image of a community.
Homeowners are shown to be more involved in their communities, with a higher likelihood of volunteering.
Homeowners are more likely to be politically active.

Economic Development:

Affordable housing is a key driver of economic growth and is central to creating a just, equitable economy.
Mission, Vision & Theory of Change
Koinonia Farm was founded in Americus, GA in 1942 by Clarence and Florence Jordan as a demonstration of service to others through generous hospitality.  Koinonia's commitment to racial equality, pacifism, and economic sharing helped create a revolutionary intentional community of believers sharing their lives and resources, following the example of the first Christian communities as described in the Bible.  The radical ideas from which the community sprung brought violence to the farm in the 1950s and there was an ongoing attempted to force them out of their community. Not to be deterred, the residents of Koinonia Farm responded with prayer, nonviolent resistance, and a renewed commitment to their way of life. As society progressed, the leadership at the farm began to focus on the poor quality of housing in their local community. Their mission pivoted as they took on the calling to build decent, affordable homes for their neighbors. Koinonia Farm's self-proclaimed "housing ministry" evolved into Habitat for Humanity International under the leadership of Millard and Linda Fuller, who became members of Koinonia after leaving a lucrative, albeit challenging, lifestyle in New York. Founded in 1976, Habitat for Humanity International has become a global housing organization working with people of all faith traditions and backgrounds, operating in all 50 states in the U.S. and in over 70 countries around the world. The Habitat for Humanity Winchester-Frederick-Clarke chapter was founded in 1997 and is a 501(c)(3) housing nonprofit committed to giving hardworking, low-income people a hand up, not a handout.  In 2018, HFHWFC expanded into Shenandoah County and rebranded as Blue Ridge Habitat for Humanity.
Habitat for Humanity International's Mission, Vision & Theory of Change
Mission

Seeking to put God's love into action, Habitat for Humanity brings people together to build homes, communities and hope.

Vision

A world where everyone has a decent place to live.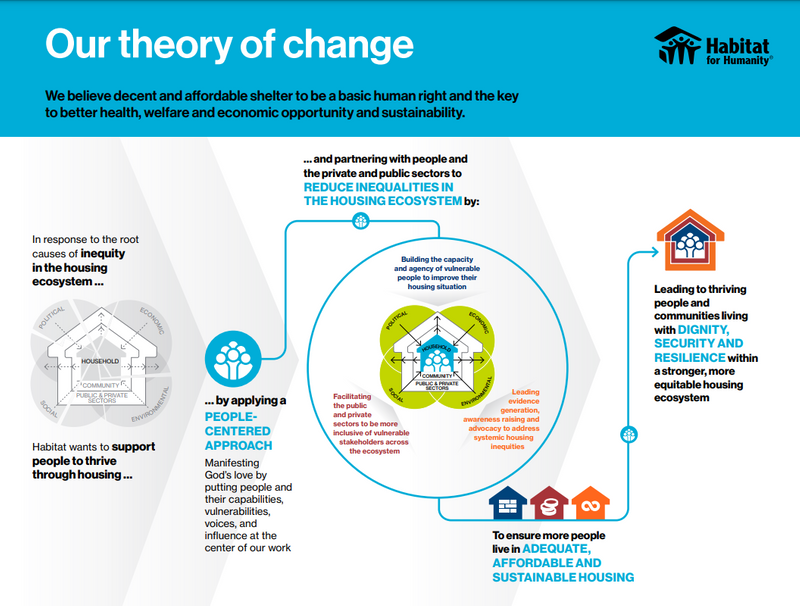 Value Statement
Our organization was founded on the conviction that every man, woman, and child should have a simple, durable place to live in dignity and safety, and that decent shelter in decent communities should be a matter of conscience and action for all. We welcome volunteers and supporters from all backgrounds and serve people in need of decent housing regardless of race or religion.
At Blue Ridge Habitat for Humanity, we work to replicate the spirit of Koinonia by evoking Martin Luther King's Beloved Community philosophy in which BRHFH seeks to create redeeming goodwill through access to safe, affordable housing.  We can accomplish that by bringing people together to build, revitalize, restore and educate our community using shelter as a foundation while catalyzing a wide-array of safe, decent, affordable housing solutions. In doing so, we will build strength, stability, and self-reliance through shelter.
Non-Proselytizing Statement
All are welcome.  Blue Ridge Habitat for Humanity has an open-door policy:  All who believe that everyone needs a decent, affordable place to live are welcome to help with the work, regardless of race, religion, age, gender, political views or any of the other distinctions that too often divide people. In short, Habitat welcomes volunteers and supporters from all backgrounds and also serves people in need of decent housing regardless of race or religion. Habitat for Humanity International and its affiliated organizations will not proselytize, nor will Habitat for Humanity work with entities or individuals who insist on proselytizing as part of their work with Habitat for Humanity. This means that Habitat for Humanity will not offer assistance on the expressed or implied condition that people must (i) adhere to or convert to a particular faith or (ii) listen and respond to messaging designed to induce conversion to a particular faith.
BRHFH is 501(c)(3) / Tax ID: 54-1816368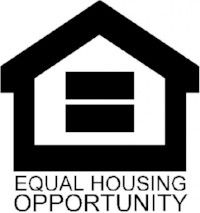 We have made our IRS Letter of Determination available for download. 
Fair Housing Clause
BRHFH has pledged to the letter and spirit of U.S. policy for the achievement of equal housing opportunity throughout the nation.  We encourage and support an affirmative advertising and marketing program in which there are no barriers to obtaining housing because of race, color, religion, sex, handicap, familial status, or national origin. Read more about equal and fair housing in Virginia.