Together, We're Stronger
Habitat's Women Build volunteers come together from all walks of life to build stronger, safer communities. Women and children make up the majority of people populating Habitat neighborhoods, as they are the most likely to be affected by poor living conditions. Women Build events provide the opportunity for women to take a proactive step in serving their communities.
A Home For Kaleah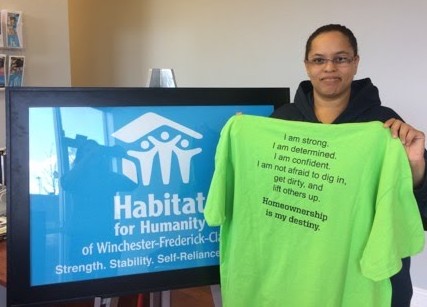 The 2018-2019 Women Build project consists of constructing a new home at 321 Highland Avenue in Winchester, Virginia. Once finished, this home will be purchased by Kaleah, a single mother with four daughters whose ages range between 9 through 15. Julia Fielding, Director of Programs, said, "I remember the first day I met Kaleah; she was one of the first families that I worked with a few years ago when I first started at Habitat. She did not qualify and had a lot of work to do to meet Habitat's tough standards. I distinctly remember the determined expression on her face, and recall asking, 'You're going to become a Habitat Homeowner, aren't you?' She replied confidently, 'Yes.'"
Fielding continued, "I didn't hear from her for two years, then she came in to try again. The improvement was nothing less than impressive. To be able to not just manage a shoe-string budget with four daughters, but to make the improvements is amazing. The strength of our families never ceases to amaze me."
Kaleah looks forward to working with the community on her home. She understands the importance safe, stable homes have upon families and on neighborhood social cohesion. She is excited to join the Highland Avenue community where Habitat has constructed and remoldeled six homes in the last few years.
Kaleah will be an asset to the Highland Avenue neighborhood. As a full-time CNA who also holds down a part-time job at a local retail store, working hard is ingrained within Kaleah. It is this strength and determination she brings to everything she does.
By participaing in Women Build, you won't just be building a home for Kaleah -- you will be helping Kaleah find the additional strength, stability and self-reliance she needs to thrive within our community.