COVID-19 Update: We are pausing donation drop-offs & donation pick-ups until further notice
---
Donate to Winchester ReStore
To be a strong financial arm for Blue Ridge Habitat for Humanity, we need new and gently-used merchandise to sell in the ReStore and customers to buy it!
                       REUSE + RECYCLE = RESTORE            
Remember:
All donations are tax deductible. A receipt is available for your donation.
100% of the product in our building is donated.
The more donated merchandise received, the more selection we can offer and sell to achieve the goal.
Recycling reduces the amount of usable goods going to the landfill.
Donors are recognized as Habitat for Humanity supporters.
Businesses can rotate inventory by donating overstock and discontinued merchandise.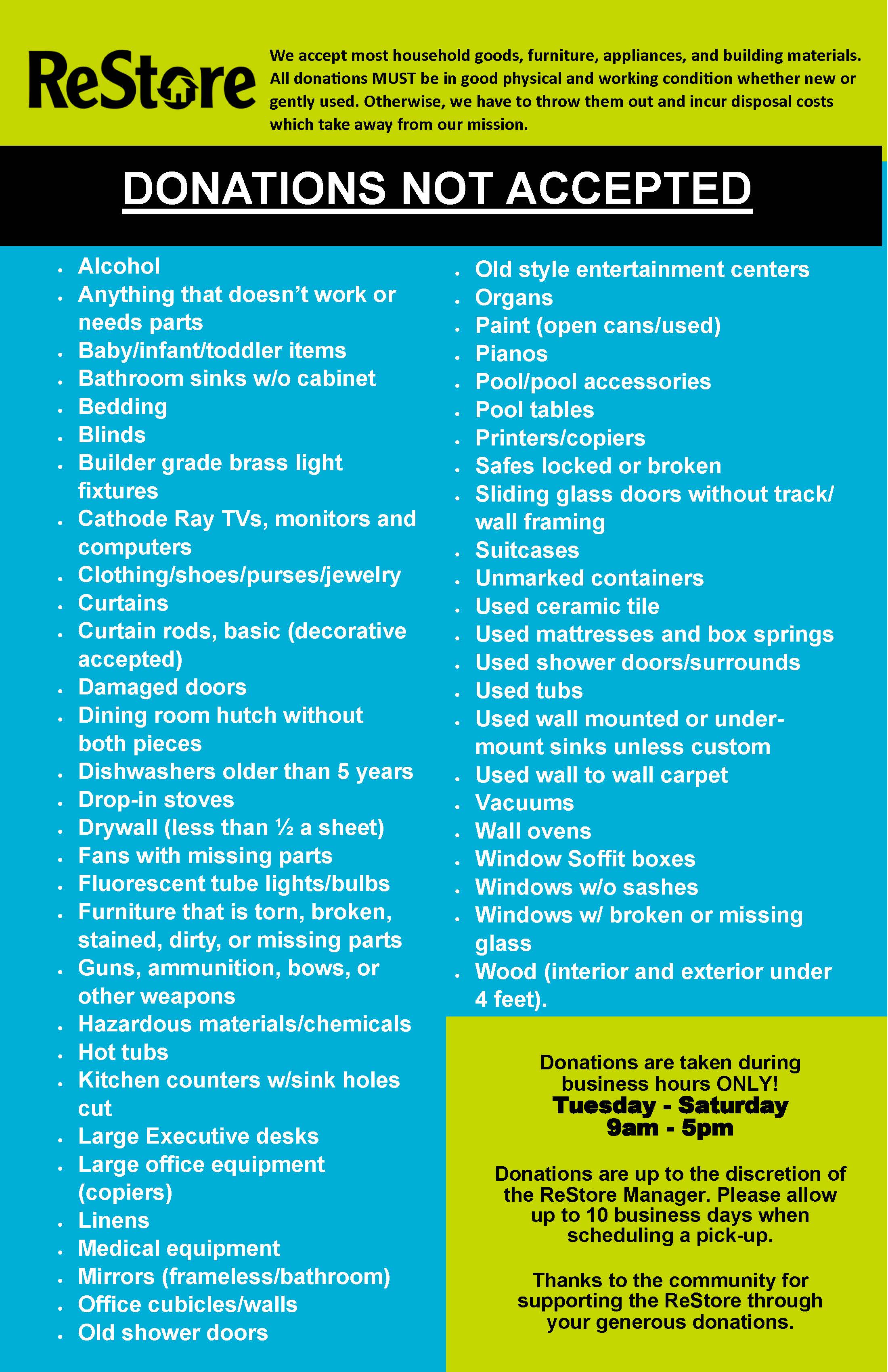 Donation Drop-offs 
Donations are accepted at our ReStore during business hours. Please do not leave donations after hours. 
     Tuesday – Saturday 9:00 AM  to 5:00 PM

Donation Pick-Ups
To schedule a pick of large items or a large number of items, contact us at 540.662.9704 during business hours, Tuesday – Saturday 9:00 AM  to 5:00 PM or schedule a donation online. Due to high demand, please allow up to 10 days for pickup when scheduling. 
For a safe and efficient pickup, please note the following:
All items must be at ground level or on main floor.
Items must be unhooked and unplugged.
We do not haul away trash or sort through items.
We do not accept any hazardous materials.
All small items should be boxed, stacked and labeled.
All items should be readily accessible.
All donations are up to the discretion of ReStore Management.