Build with Habitat for Humanity in Paraguay!
Serve! Explore! Travel!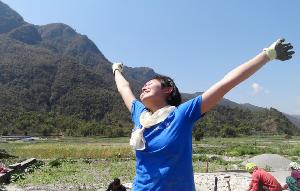 Dates: September 30 - October 7, 2018
Location: Asuncion,  Paraguay
Cost: $1,500 per person (excluding airfare and visa) - a portion of your trip payment is considered a donation/tax deductible!
Ready to work as part of a fun, diverse, and local team? Want to learn more about poverty around the globe, what you can do to make an impact, and where your local Habitat's tithe money goes to support building homes internationally? Eager to put your compassion into action? Looking to see a unique part of the world from an interesting perspective? Excited for the sights, sounds, tastes and smells of a new place? Join our local Winchester-Frederick-Cl arke team, comprised of volunteers and staff, on this Habitat for Humanity Global Village trip to Paraguay!
Paraguay, officially the Republic of Paraguay, is a landlocked country in central South America , bordered by Argentina, Brazil, and Bolivia. Due to its central location in South America, it is sometimes referred to as the "Heart of South America".The capital of Paraguay is Asuncion.
With few mineral resources, Paraguay's economy revolves around agriculture. More than 30 percent of the population lives in poverty, and Paraguay ranks near the bottom among South American countries in reducing poverty over the last decade. Social spending for antipoverty projects is minimal.
Come together with a team of 12 to help provide a family in Paraguay with simple, decent, affordable housing while exploring the country and culture. The trip cost includes supporting our local office in Paraguay; meals; accommodations; transport (excluding tr ip participant airfare); medical emergency evacuation and trip cancellation insurance; some local cultural activities; and team coordination and orientation materials. (Participant airfare, R&R activities, and visa and exit fees not included.) Fundraising tools are available.
No construction experience is required; only an open mind, flexibility, and a desire to work hard. Change your world; change your life.
To learn more and apply to join this trip, contact: Matthew Peterson, Executive Director & Team Leader                              mpeterson@habitatwfc.org  |  540.662.7066
---
Your Global Village Itinerary
Start:         9/30/2018                              End:  10/7/2018
Day 1: Travel                                         

Depart the U.S. or home country to arrive on Sunday

Day 2: Arrival & Welcome Sunday, September 30

Arrive at Silvio Pettirossi International Airport (ASUJ and be greeted by Habitat Paraguay staff)
Transported to accommodations in Asuncion
Orientation
Dinner
Rest and settle

Days 3-7: Build Monday, October 01 - Thursday, October 04

Breakfast served before leaving for the work site
Welcome ceremony (first day) with families and Habitat staff
 Work from 8am-4pm with lunch on site or at the Hotel
Free time after work to clean up
Dinner
Time for team activities

Day 8: Farewell & Cultural Activities, Friday, October 05

Breakfast served before traveling to worksite
Cultural Activity
Farewell event
Dinner
Time for team activities

Day 9: Goodbyes, Sunday, October 07

Breakfast at accommodations
Departure for home or contunue your individual travels
---
Special events throughout the week
Cultural experiences with host program staff, such as traditional dance, cook traditional food, terere and mate (traditional no-alcoholic drinks)

City Tour, shopping handcraft, sightseeing (Paraguayan lace)

Visit orphanage/foster home

Visit the homeowner existing home

 Transport to a soccer match at stadium

Farewell ceremony
---
Your GV trip cost includes donations to Habitat for Humanity Paraguay and Habitat for Humanity International; meals; accommodations; transport, excluding airfare; predetermined cultural activities; health, accident, emergency evacuation insurance; and team coordination from HFHI and the host program.
The trip cost does not include airfare, R&R activities, or visa & exit fees (where applicable}.
Team members arriving earlier or staying later than the designated trips dates are responsible for their own transport , hotel arrnagements, and payments.
*denotes funds that team leader will carry and submit for payment in country
---
Downloadable Files