Habitat's Homeownership Program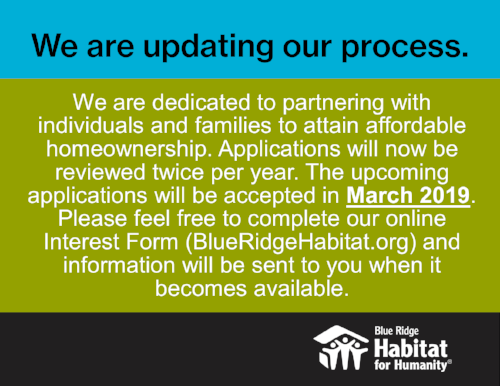 Thank you for your interest in becoming a Habitat homeowner. We believe that everyone should have a safe, affordable place to call home.
To carry out our vision, we partner with individuals and families from the application, through construction and closing, to post-purchase advocacy. 
By working with us from beginning to end, we can help prospective individuals prepare for the various responsibilities of homeownership, including learning about personal finances, mortgages, maintenance and upkeep of homes, and much more.
Habitat's path to homeownership is an important and in-depth process, requiring hard work, time and dedication. But this helps to ensure the long-term success of Habitat homeowners.
How to Qualify for a Habitat home
Habitat homeowners must be active participants in building a better home and future for themselves and their families. Every Habitat home is an investment. For us, it is one answer to a critical need, and we believe that stronger homes will create stronger communities.
Prospective Habitat homeowners must demonstrate a need for safe, affordable housing.  Most importantly, an applicant's income must fall within the 30%-70% range of the Median Family Income for this geographic area.
To determine if you are income-qualified, compare your regularly occurring gross annual income to the chart below. Your income should include most funds you are receiving, including social security, disability, child support, etcetera. SNAP (food stamps) and TANF are not counted as income but are a consideration for the overall financial picture.
Please don't assume you do not qualify. Join us at an upcoming information session to learn more about the application process.  Please, fill out our new online interest form to be included in communication about the upcoming application window and information sessions. 
Income Guidelines
| Family Size | Income | | | |
| --- | --- | --- | --- | --- |
| 1 | You must earn between $14,760-$34,440 | | | |
| 2 | You must earn between $16,860-$39,340 | | | |
| 3 | You must earn between $18,960 - $44,240 | | | |
| 4 | You must earn between $21,060 - $49,140 | | | |
| 5 | You must earn between $22,770 - $53,130 | | | |
| 6 | You must earn between $24,450 - $57,050 | | | |
| 7 | You must earn between $26,130 - $64,890 | | | |
Application Information
Completed applications, with all supporting documentation for the Habitat for Humanity Home Ownership Program, will be accepted March 1-31, 2019.
Habitat Home Ownership program applications will be available at a Home Ownership Information Session prior to the application window. 
Participation in a Home Ownership Information Session is a requirement of submitting a completed application and a great way to learn about the Blue Ridge Habitat program.  REGISTRATION IS REQUIRED.  The Home Ownership Information Sessions will be listed in the coming weeks. 
Please fill out the interest worksheet to stay up-to-date on the application process for March 2019.